Ethyl Bar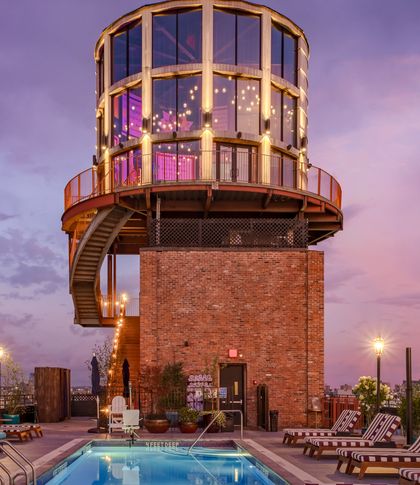 High Proof Haute Cuisine

12 Course Cocktail Tasting Experience
An intimate evening of drinks and small bites hosted by famed bartender Angus Winchester (Mixologist of the Year, Wine Enthusiast) and bar director Cara Gray (previously Aviary New York, NOMA Copenhagen/Tulum). See more details below or book here.
WaterTower Bar December// January 2021
"ETHYL" - High Proof Haute Cuisine, is a 12 course cocktail tasting menu that blurs the lines between cocktails and food, showcasing high proof interpretations of avant-garde cuisine including edible cocktails, savory drinks and a few surprises.
Here - drink is the star, the food an accompaniment and each course served as a performance with specific instruction on how to imbibe and enjoy. Presented in 12 courses, each of the drinks are inspired by haute cuisine and served as hors d'oeurves through mains, palate cleansers, onto a cheese course and finally dessert. Along the way, nibbles served to help balance the hedonism!
The experience is hosted by British celebrity bartender Angus Winchester (2012 Mixologist of the Year, Wine Enthusiast) who will take guests through each course while entertaining and educating on what is being imbibed.
Ethyl is concepted by the hotels head of food & beverage, Josef Grznar, partnering with head bartender Cara Gray, formerly of The Aviary (New York) and global gastronomic temple NOMA (Copenhagen)
The Water Tower bar sits aloft the Williamsburg Hotel, dominating the neighborhood skyline, showcasing the perfect late night 360 views of Manhattan and surrounding Williamsburg.
Expect high proof interpretations of haute cuisine with a dash of molecular techniques and very playful presentation…capacity is limited to 30 guests per seating
We recommend joining us for dinner later, in the hotel's restaurant. Book a spot here.

Ethyl Bar seating is limited to 30 guests and runs for 90 minutes. $95 pp (tax and gratuity not included)
Click below to reserve or call 1 (800) 578-5129 for more information.
Covid 19 Responsibility Statement: Nothing is more important to us than the safety of our guests and our staff. In addition to meeting all current health standards, we are taking extra precaution by ensuring that tables are spaced apart by at least 6 feet with partitions between tables and all surfaces are thoroughly disinfected between sittings. We employ a state-of-the-art air filtration system and conduct temperature checks of all guests entering the space.