Pool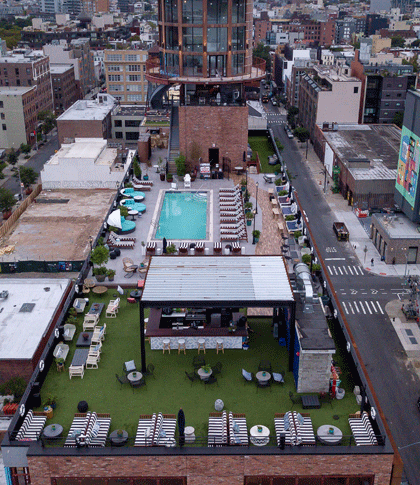 A Rooftop Oasis
Rooftop Pool in Brooklyn
Perched above the city streets, our rooftop oasis boasts breathtaking views, an outdoor pool, bar and café.
* Thank you for the wonderful 2019 pool season! The Rooftop Pool will be temporarily closed and will resume operations in Spring of next year! Please subscribe to our hotel newsletter for updates on The Rooftop Pool's 2020 schedule. To reserve your spot for next season, please contact reserve@thewilliamsburghotel.com.
Rooftop & Pool Policies:
Pool hours are from 8AM to 10PM, with exclusive access granted only to hotel guests until 12PM. Public access starts at 12PM and is based on availability, with a minimum table (Food & Beverage) requirement.
Guest access to the pool is limited to two (2) per room, and based on the names registered to the hotel reservation. Visitors of guest are required to pay applicable table minimums and fees upon entry.
Children of hotel guests under the age of 21 must be accompanied by an adult on the rooftop & pool. Children's pool access hours are 8AM to 6PM.
Service/Therapy animals are welcome; however, animals are strictly prohibited from entering the pool area.
Outside Food & Drinks are not permitted at the Rooftop. Pricing, Food & Beverage minimums are subject to change. Entry is subject to availability, and at the discretion of management.
For additional questions, please email: reserve@thewilliamsburghotel.com