Pool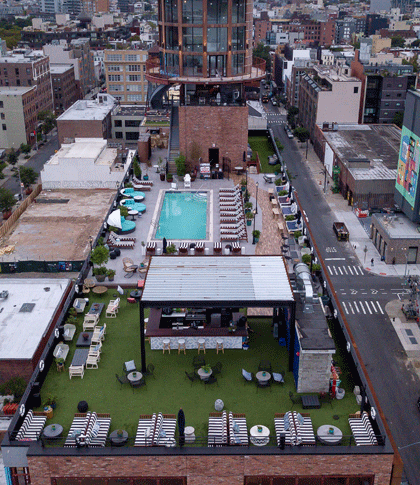 A Rooftop Oasis

Rooftop Pool in Brooklyn (POOL CLOSED FOR THE SEASON)
Perched above the city streets, our rooftop pool oasis boasts breathtaking views, an outdoor pool, plus a bar and café. Read below for the most up to date information on our pool.
Rooftop & Pool Information
Here at The Williamsburg Hotel, our mission is to provide the best rooftop experience for our guests. However, due to occupancy limits and social distancing protocols, our guests are being asked to limit their enjoyment of the rooftop amenities to 3-hour time slots on the weekend (Friday, Saturday & Sunday); the timeframes are 9am-12pm, 12:30pm-3:30pm and 4pm-7pm. Time slots for Monday through Thursday are 9am-12:45pm and 1pm-5pm.
Due to COVID restrictions and social distancing requirements it is impossible to seat every guest at the pool. A seat at the pool is NOT GUARANTEED. It is on a first come, first serve basis and available seating includes the grass area facing Manhattan. A time slot at the pool guarantees access to the pool only, not use of a lounge chair. We will provide seating as is available and seating includes the entire roof and is not limited to the pool area only.
We request that you make a reservation as soon as possible for the day of your arrival or the day of your stayover if it is a multiple night booking. Each night reservation comes with a one time slot of pool access. Please note that all information provided above is subject to change. Each room booking entitles you to two passes for use of the pool. One room booking will allow for up to 2 additional guests (inclusive of children) at an extra fee of $180.00 per person (subject to availability). To reserve your slot, please contact frontoffice@thewilliamsburghotel.com or call (718) 362-8100.