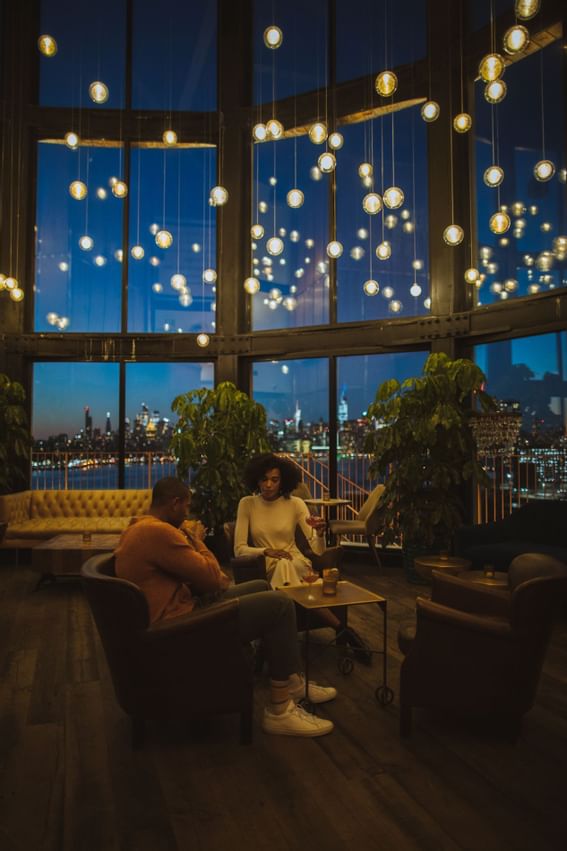 We host regular happenings throughout the hotel
Join our community for exclusive access to exciting events, live concerts, local promotional offers and much more. Sign up now and play like a local. We'll catch you on the dancefloor!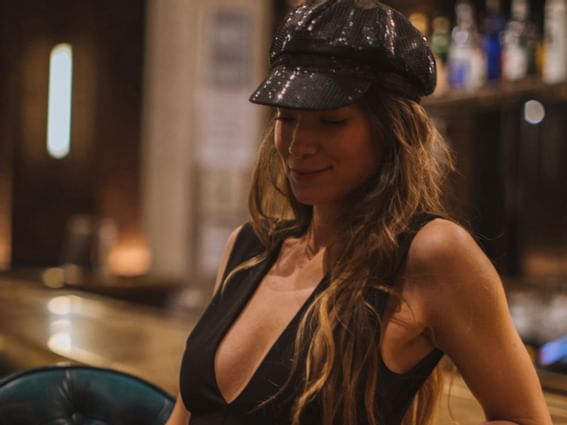 Social Hour | The Lobby Bar
MONDAY - FRIDAY 12PM - 6PM
Grab a seat at the bar and enjoy $10 Well Drinks and Wine, $6 Beer, and $8 food specials!
LIVE ENTERTAINMENT EVERY WEEKEND
Friday Night – Resident DJ TonyDeep Disco 7:00pm- Late
Saturday – Samba Jazz 1pm- 5pm
Saturday Night – Resident DJ TonyDeep Disco 7:00pm- Late
Sunday – Nick Bellio 1pm- 5pm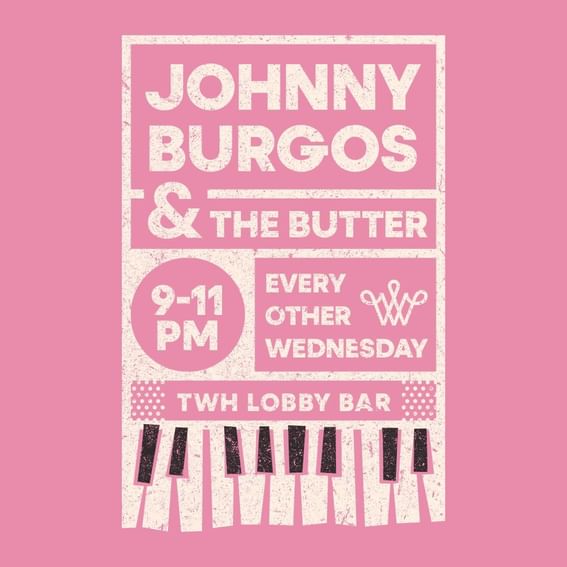 Johnny Burgos and the Butter | The Lobby Bar
Every Other Wednesday : 9 PM to 11 PM
Johnny Burgos is a singer, songwriter, producer and engineer born and bred in Brooklyn, New York. His brand of future soul and Nu-funk embodies a raw uncompromising sound revealing beauty from pain, hope from despair, and the will to keep fighting. Especially influenced by his uncle and world-class percussionist, Andre Martinez, Johnny grew a fascination with the percussive rhythms of salsa and soul music, which eventually manifested into a devoted passion for Hip Hop by way of a sample-based production style using an Akai MPC 2000. With influences from Michael Jackson, OutKast, J Dilla, Lauryn Hill and D'Angelo, Johnny's music draws upon the core principles of R&B, while encompassing elements of Hip Hop, Funk, Pop, Salsa and Reggae.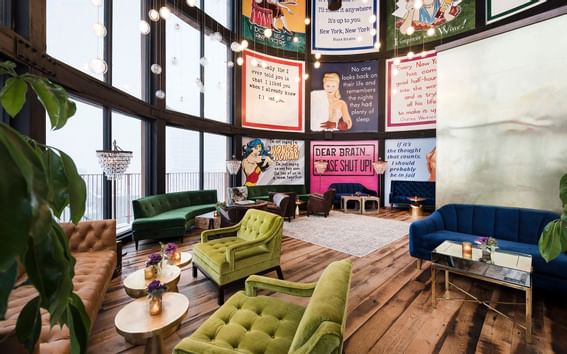 Watertower Bar
We're back….for cocktails and stunning 360 views of Manhattan and beyond.Our glass and steel encased rooftop sanctuary is open for cocktails, light bites and decadent views of the common folk across the river!
Friday & Saturday : 6:00 PM to 4:00 AM
Tuesday & Wednesday : 7:00 PM to 12:00 AM
Thursday : 7:00 PM to 1:00 AM
Sunday : 6:00 PM to 1:00 AM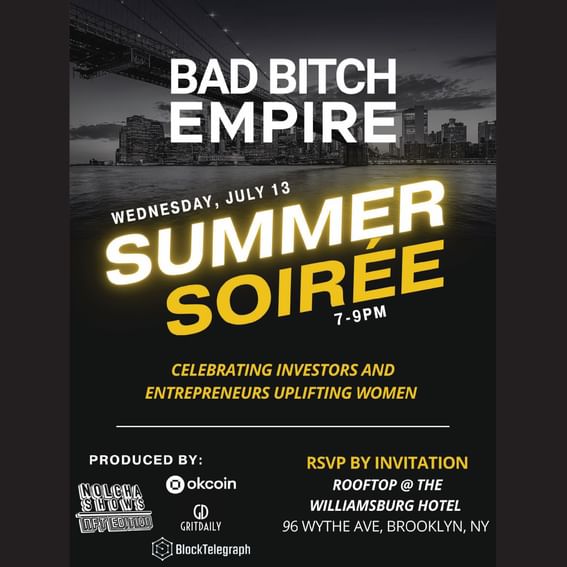 Bad Bitch Empire Summer Soirée
Wednesday, July 13th 7-9 PM on the rooftop.
Celebrating investors and entrepreneurs uplifting women.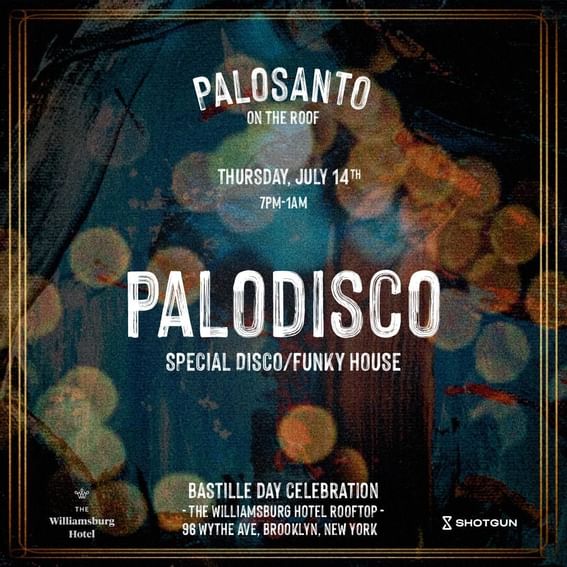 Palo Santo Summer Rooftop Series
Thursday, July 14th 2022. Starting at 7 PM.
Palo Santo Summer Rooftop Series Bastille Day Celebration.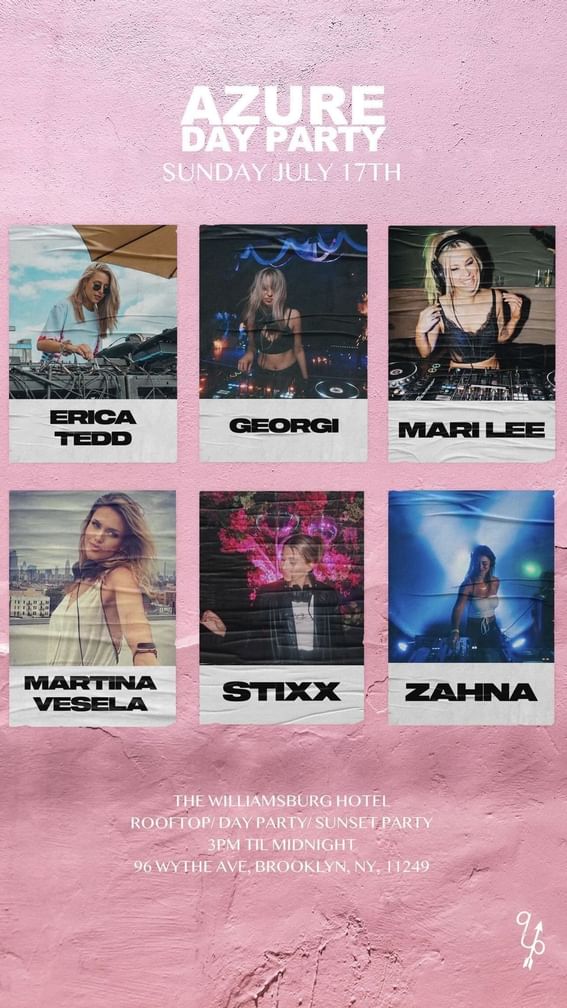 Azure Day Party Summer Series
Sunday, July 17th, 2022. Doors open at 3 PM until late.
Rooftop Pool Party. Azure Day Party with sounds by Erica Tedd, Georgi, Mari Lee, Martina Vesela, Stixx, and Zahna.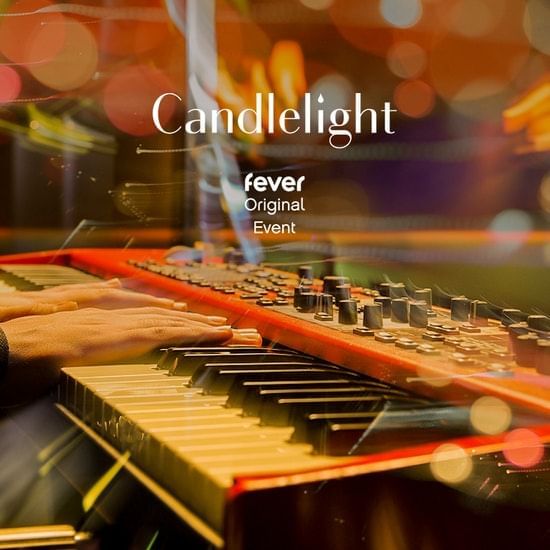 Candlelight Jazz: Legends of R&B at The Williamsburg Hotel | The Ballroom
Saturday July 23rd, 2022 : 6:30 PM & 9:00 PM
Enjoy an epic night of amazing jazz renditions of your favorite classic R&B songs in a venue bathed in candlelight. This stunning performance features songs from cornerstone artists like Alicia Keys, Maxwell, Lauryn Hill and many more! The glow of the candlelight will transport you to new heights, as the harmonic melodies of the talented PureSoul Seattle serenade you with surprising renditions of these timeless songs. Whether you're a fan of R&B music or just looking for a unique night out- you definitely don't want to miss this one of a kind concert.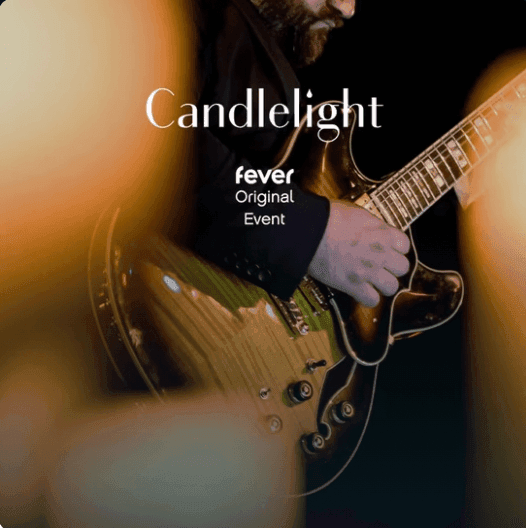 Candlelight: A Tribute to Adele at the Williamsburg Hotel I The Ballroom
Saturday August 19th, 2022 at 6:30 PM and 9 PM
Candlelight concerts bring the magic of a live, multi-sensory musical experience to awe-inspiring locations like never seen before in New York City. Get your tickets now to discover the music of Adele at The Williamsburg Hotel under the gentle glow of candlelight